www.beachbodycoach.com/COACHLISA
Founding Star Diamond Coach
Lisa Decker Griffith
Have questions? Call me!
Independent Team
Beachbody Coach
 207-763-3112
Contact Me!
Are you struggling with your health and fitness journey? Are you looking for support so you can get the results that you want? If you want clean eating support, fitness support or just motivation, ask me about the different ways I can help you!
more...
less...
My Profile
Shop Team Beachbody
About Team Beachbody
Success Stories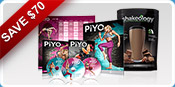 Get an ultra-lean, defined
physique plus Your Daily Dose
of Dense Nutrition®!
Limited Time Only!
All savings in USD.
International savings may vary.
Get seriously shredded in
the shortest time!