www.beachbodycoach.com/MELANIEMITRO
Melanie Mitro
Independent Team
Beachbody Coach
 mjmitro@gmail.com
Contact Me!
Welcome to my Team Beachbody® Web site. As your Team Beachbody Coach, I can help you achieve your health and fitness goals. Please look around my site, and if you have any questions, click the "Contact me" button.
more...
less...
My Profile
Shop Team Beachbody
About Team Beachbody
Success Stories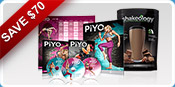 Get an ultra-lean, defined
physique plus Your Daily Dose
of Dense Nutrition®!
Limited Time Only!
All savings in USD.
International savings may vary.
All-New Beachbody® Challenge Packs. They're everything you need to transform your life, including world-class fitness, premier nutrition, and peer support.