www.beachbodycoach.com/RMASON
Rene' Mason
Independent Team
Beachbody Coach
 419-350-7322
Contact Me!
Becoming a Beachbody Coach has been remarkable. Helping people get into the best shape of their lives is very rewarding. Is it worth becoming a Coach? You bet. I've been a Coach for 3 yrs, and I'm not stopping now. I love paying it forward.
more...
less...
My Profile
Shop Team Beachbody
About Team Beachbody
Success Stories
Get seriously shredded in
the shortest time!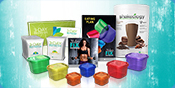 Fast-track your total-body
transformation and get
seriously shredded!