www.beachbodycoach.com/SALLYMC
Sally McCarthy
Independent Team
Beachbody Coach
 916-595-1890
Contact Me!
Welcome to my Team Beachbody® Web site. As your Team Beachbody Coach, I WILL help you achieve your health and fitness goals! Please take a look around my site, and if you have any questions, click the "Contact me" button. I can't wait to connect soon! :)
more...
less...
My Profile
Shop Team Beachbody
About Team Beachbody
Success Stories
June 6th - 13th, save up to
78% on select Beachbody®
products to help you, your
family, and friends stay
strong and healty all
summer long.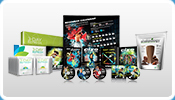 Dance your way to fit and
streamline your nutrition with
the CIZE Kickstart and
Shakeology Challenge Pack!