www.beachbodycoach.com/SUEK11
Sue Kauffman
Independent Team
Beachbody Coach
 717-437-7020
Contact Me!
Welcome to my Team Beachbody® Web site. I'm 50 and in the best shape of my life. If you want to have a coach that understands what it's like to stay healthy as we age contact me.
more...
less...
My Profile
Shop Team Beachbody
About Team Beachbody
Success Stories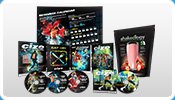 Experience the end of
exercize™ and the start of
complete nutrition!
Have you tried Shakeology® yet? Find out why everyone's raving about the Healthiest Meal of the Day®.