www.beachbodycoach.com/SUEK11
Sue Kauffman
Independent Team
Beachbody Coach
 717-437-7020
Contact Me!
Welcome to my Team Beachbody® Web site. I'm 50 and in the best shape of my life. If you want to have a coach that understands what it's like to stay healthy as we age contact me.
more...
less...
My Profile
Shop Team Beachbody
About Team Beachbody
Success Stories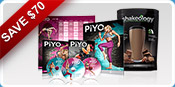 Get an ultra-lean, defined
physique plus Your Daily Dose
of Dense Nutrition®!
Limited Time Only!
All savings in USD.
International savings may vary.
The craziest 30 mins of
your day—the best results
of your life!
Save $90. Limited Time Only!