www.beachbodycoach.com/TURBOSISTER
Jenelle Summers
Independent Team
Beachbody Coach
Facebook me! : )
Contact Me!
As Chalene Johnson's sister & castmember in ChaLeanExtreme & Turbo Jam, I know firsthand Beachbody products work! I can help reach fitness goals and/or help you become a Coach yourself (regardless of fitness level). Please email me at Jenelle@TurboKick.com
more...
less...
My Profile
Shop Team Beachbody
About Team Beachbody
Success Stories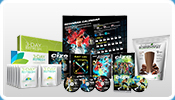 Dance your way to fit
and streamline your
nutrition with the CIZE
Kickstart and Shakeology
Challenge Pack!
Try it before you buy it
with the NEW Shakeology
Super Sampler